Personal branding: how to present yourself to employers - 5 practical tips
Since the beginning of January, the Womenpreneur Initiative has organised many workshops, conferences and events within theunder the umbrella of GenerationW program. Among them, we paid special attention to provide candidates with training and talkspractical training about personal branding, an interesting and important aspect for young job-seekers to consider during their applications and interviews.
What does personal branding mean? Why is it important to work on it for your professional career? And what are the main aspects you must consider to efficiently present yourself? With the help of our experts, we tried to answer these questions!
Branding and personal branding: what's the goal?
Usually, the term "branding" is associated with companies, what the company represents in the customer's eyes and what makes it distinct compared to other companies. The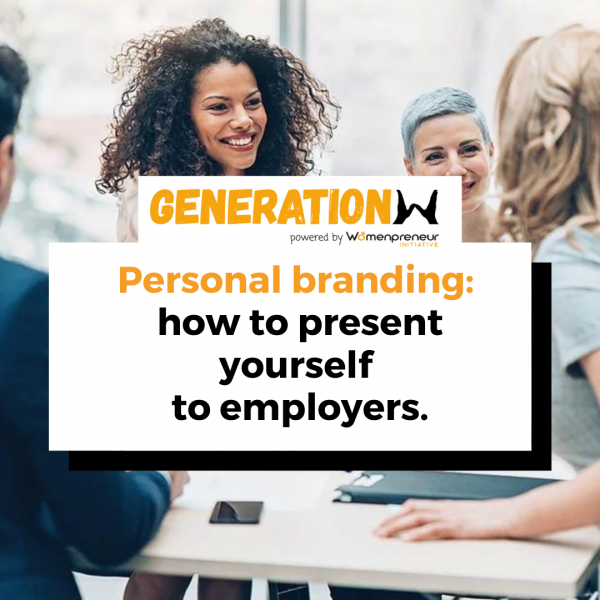 aim of branding is to reflect one company's values, how it acts, reacts and serves people. In just a few
words, a company's slogan can tell a story and influence people. However branding is not only for companies, it can be used for personal and professional use.
A personal brand must represent the values you embrace, what are your goals, your skills and what is your expertise to share. Just as a company's brand communicates its core essence and
stands out from the competition, a personal brand does the same: communicate a unique identity and put forward clear values. Personal branding can play a crucial role in establishing your career or boosting it. Developing a personal brand can sound challenging. Yet, it is a key step to build credibility in your workfield. That is why, we will give you some tips to help you create a genuine brand.
5 practical tips
Create a list of your personal strengths and weaknesses.
To start with, figure out who you are. In order to build a personal brand with an accurate effect, you first need to ask yourself some questions, such as: in which areas of work do I excel? What drives me? What characteristics have others complimented me on? Which projects have others had to help me with repeatedly? Which roles seem to drain my energy? Which projects can I spend hours on without feeling overwhelmed or tired?
Be aware that once you have determined what you are good at, it can limit yourself to some areas of work. Nevertheless, the best strategy is to choose and focus on a particular work realm. So, it is better to find the one that suits you.
Define what you want to be known for.
Your personal brand is the reflection of who you are today. You can emphasize certain strengths of yourself depending on where you are applying. By doing so, you will uncover the skills that make you distinct. For your own good, it could also highlight the area you need to gain knowledge.
Prepare an elevator pitch.
It should be a 30 to 60 second story about who you are. Whether you are in a formal or an informal event, having an elevator speech prepared is an easy way to succinctly present yourself. In this speech, focus on the key point you want to stress: if you are looking for a job or what your profession is.
Network in the workfield you choose.
It is important to identify who you are trying to reach, it will be easier to draft your brand and adapt it to the person you want to speak with. Furthemore, network frequently and cultivate your connections. In this Covid era, it is fundamental to grow your online presence. You can read our blog on how to use your network if you want more information about networking.
Online and offline personal brand.
Remember that your personal brand is online but offline as well. Your brand is also how you carry yourself in the office and how you behave in your daily life. The story you tell combines with those everyday interactions, together they create your personal brand. You should re-invent your personal brand as you grow and your career evolves. Your personal brand should be adjusted according to your professional life.
Keep in touch with the Womenpreneur Initiative!
If you like our article, don't forget to share it with your network!
Subscribe to our newsletter to make sure you don't miss our updates and visit our website and social media to discover more about our tips and programs to boost your skills and enter the job market!
Instagram - Facebook - Twitter - LinkedIn - Youtube
Join GenerationW2021!
Are you a young female student/job-seeker? Your perfect job-match is waiting for you!
The Womenpreneur Initiative has just launched the second edition of the GenerationW program: GenerationW2021. This time supported by the U.S. embassy in Belgium and equal.brussels. Watch this short video to find out about all the info!
Applications now open! Fill out the form and start the adventure!