The Womenpreneur Initiative is proud to present you another inspiring woman as part of our series about inspiring women in Belgium. Its aim is to increase awareness about female role models.
Today we present you to Caroline Leys! Caroline is Head of Communications & Spokesperson at Regeringscommissariaat Covid-19 since October 2020.
At one of our recent events in the GenerationW programme, Caroline spoke about her experiences throughout her career and how it made her grow both professionally, but also on a deeper and more personal level.
Caroline Leys
Caroline has obtained a degree from University of Antwerp. For two academic years, she was the spokesperson for all students in Antwerp. Moreover, during her years of studies she was appointed as President of the student union, Unifac, that coordinates student life at Antwerp university campus. These experiences made Caroline aware of her strengths: her ability to negotiate, to be assertive, and what she values the most: her ability to charm and enthuse individuals.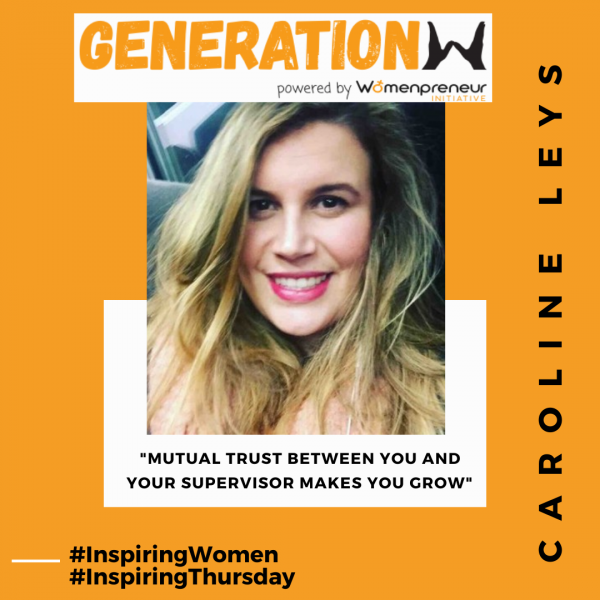 Communications in the centre of her career
Throughout Caroline's career, communication has been an essential skill in her work tasks. Among others, she has worked with marketing and communications at Satellic NV, followed by social media management for the political party, Open Flemish Liberals and Democrats (Open Vld) from which she then became Head of Communications at the Open Vld's Antwerpen office. These experiences led to her current role as Head of Communications and Spokesperson for the Cabinet Minister in the Federal Government, Philippe De Backer, as well as being responsible for the overall communication during the Covid-19 crisis.
Caroline's advice for professional growth
Through years of intense work experiences, Caroline has gathered some useful insights to share.
First of all, Caroline has learned that flexibility is key if you want to manage all your tasks. She advises people to get to know themselves better! "Think about what you really want in both your professional and personal relationships, be honest about what you like, what you do not like, what gives you energy and what does not. Being aware about these things will give you greater room to maneuver in your work," Caroline has stated.
Her second advice is to keep your network warm. How? Caroline suggests that you can do it by sending a message when someone changes their job, sending birthday wishes, taking the time to have a talk with people you want to connect with at events etc.
Thirdly, Caroline recommends you to do sports to ventilate your emotions as it can help you better separate your work life from private life which is especially important with tele-working during Covid, according to Caroline.
Finally, Caroline says that it is crucial to have the person you are reporting to not only trust you, but also that you trust that person. This is key to ensure that you are performing at your best, to grow in your career and professionally.
Meet other inspiring women!
Do you want to meet other inspiring women? Subscribe to our newsletter to be sure you will not miss our next blogs about them! Follow us on our social media to follow the stories of inspiring women:
Instagram - Facebook - Twitter - LinkedIn - Youtube
Join GenerationW2021!
Are you a young female student/job-seeker? Your perfect job-match is waiting for you!
The Womenpreneur Initiative has launched the second edition of the GenerationW program: GenerationW2021. This time supported by the U.S. embassy in Belgium and equal.brussels. Watch this short video to find out about all the info!
Applications now open! Fill out the form and start the adventure!