The Womenpreneur Initiative is proud to present you to another inspiring woman as part of our series about inspiring women entrepreneurs. Its aim is to increase awareness about female role models.
Today, we present to you Lena Hoffmann! Working as Community and Inclusion Director at Asif Ventures, she is dedicated to bringing equal opportunities to the entrepreneurial scene. Among her many professional experiences, Lena is the co-founder of the social organization YOUth Act. 
Yesterday, Lena and her colleague Kyra Dresen spoke at our event "Funding Student Start-Ups" in the GenerationW program which was very interesting and relevant as many of our candidates have entrepreneurial ideas that they seek to set off. Lena gave them practical tips on how to successfully acquire funding for a business start-up.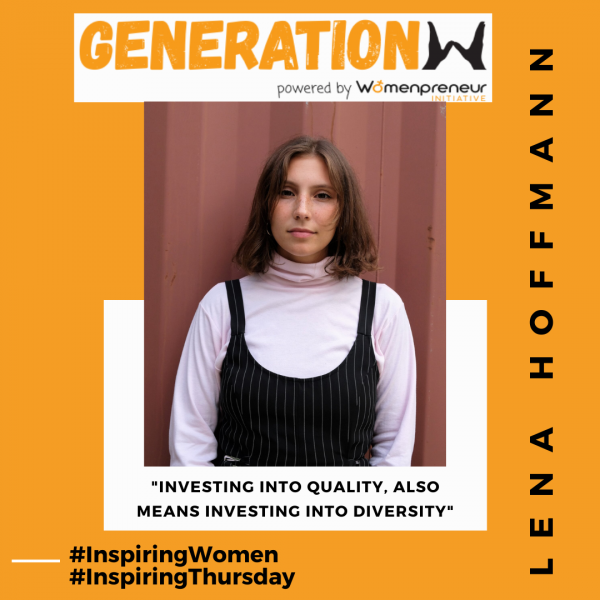 Lena Hoffmann
Before finishing her studies in Philosophy, Politics, and Economics at Vrije Universiteit in Amsterdam in 2020, Lena gathered many professional experiences. She worked as a research assistant at the European Center for Constitutional and Human Rights (ECCHR), the Yugoslav Lawyers Committee of Human Rights, and at the Reporter Ohne Grenzen Deutschland. She has also gathered experiences from UNICEF Netherlands, Act as well as from the NGO, Forward Incubator, which provides start-ups with fundings and expertise. She continues to be very involved in the global social enterprise, G(irls)20, which puts girls and women at the center of the G20 economic decision-making process.  
Driven to work for social justice 
Social justice is a theme in much of Lena's work. Growing up in Serbia, Croatia, and Israel, she became aware of social and economic inequalities from a young age. Moreover, her involvement in different human rights organizations strengthened her awareness of inequalities. She remains very committed to bringing growth to the Dutch community, especially aimed at the youth.  
More equitable opportunities for young entrepreneurs 
The youth is also what is in focus at Asif Ventures as it supports start-ups of students and recent graduates, and it aims to bridge the gap between student entrepreneurs and venture capital funding in the Amsterdam Metropolitan Area. 

Lena has worked here as Community and Inclusion Director since 2020, and she has a special focus on creating a more diverse and inclusive Dutch entrepreneurial scene to create a diversified base of next-generation entrepreneurs. "For us, investing into quality also means investing into diversity" Lena has stated.
Meet other inspiring women!
Do you want to meet other inspiring women? Subscribe to our newsletter to be sure you will not miss our next blogs about them! Follow us on our social media to follow the stories of inspiring women:
Instagram - Facebook - Twitter - LinkedIn - Youtube
Join GenerationW2021!
Are you a young female student/job-seeker? Your perfect job match is waiting for you!
The Womenpreneur Initiative has just launched the second edition of the GenerationW program: GenerationW2021. This time supported by the U.S. embassy in Belgium and equal.brussels. Watch this short video to find out about all the info!
Applications now open! Fill out the form and start the adventure!