GenerationW, the program launched by the Womenpreneur-initiative in 2020, was nominated "one of the most inspiring iniatives during Covid-19" by the Council of Europe.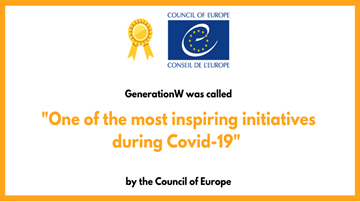 Furthermore, it was also included among the initiatives highlighted by the institution within the #solidaction Campaign, a global call for collective mobilisation for solidarity to fight against inequalities.
What is Generation W? 
GenerationW is an accelerator program powered by Womenpreneur-Initiative and supported by the US Embassy in Brussels. It aims to support women during and after the COVID-19 crisis
As a matter of fact, the program intends to encourage women's engagement and presence in entrepreneurship and all aspects of the modern technological revolution. 

By attempting to reduce gender inequalities that exist in the economy and tech, this program promotes and places women at the center of the economy in Brussels.
During the 6-month accelerator program, several activities have been realized. Among them workshops, training, sessions with experts in the fields of technology, marketing, financial literacy, innovation, the labour market, social media platforms and branding, and many more. Many partners have supported the program, such as Google, Pebble Media, Snapchat, Actiris, Brand New Day, Microsoft, Actiris, AXA, Microsoft, Cité des métiers and many more. Inspiring female professionals & CEOs in Belgium and Internationally took part of our weekly sessions. They shared their experiences and helped provide the candidates with insightful advice on how to succeed as female entrepreneurs.
Learn more about the program!
If you wish to learn more about GenerationW and its impact on female businesses in Brussels, visit our website and social media and our latest blog about it! 
Instagram - Facebook - Twitter - LinkedIn - Youtube