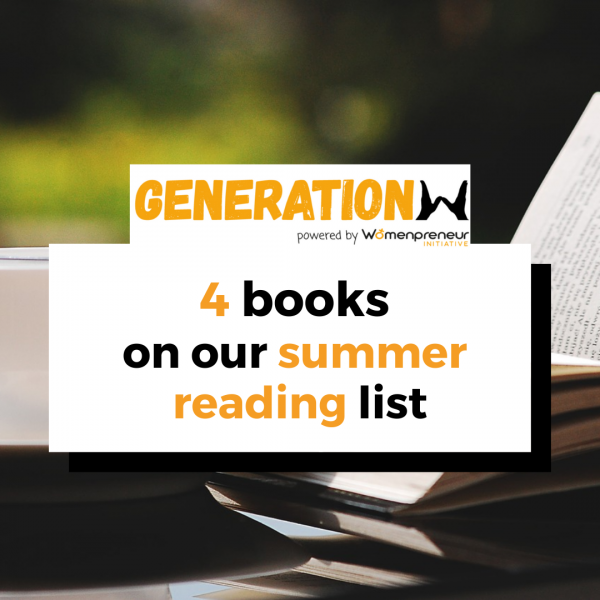 We are already in the second half of summer and September is coming fast. To get ready to go back to class or work, nothing beats a good old list of books to read. In this article, Womenpreneur presents to you its summer readings! These four books were picked to inspire, motivate and encourage you. Each of them fulfills one specific mission to prepare you for tomorrow.
The one to find science entertaining
Tim Harford. How to Make the World Add Up: Ten Rules for Thinking Differently About Numbers. Bridge Street Press. 2020.
Harford's book is not addressed to maths and statistics lovers, but to those who question these numbers that are overrepresented in our daily lives, in newspapers, on social media, etc. According to Tim Harford, good statistics are a kind of magic and are extremely useful to understand the world around us. His book informs us on the world of disinformation, and on the intimidating world of datas. This book is ultimately a way to learn and understand statistics in an entertaining and easy-to-read way.
"If you aren't in love with stats before reading this book, you will be by the time you're done." - Caroline Criado Perez, author of Invisible Women.
The one to think the future of work
Margaret Heffernan, A Bigger Prize: How We Can Do Better Than the Competition. Simon & Schuster. 2014.
Competition has been elevated to the level of fundamental economic principle. Margaret Heffernan endeavors to debunk this myth. In her book, she points out the negative effects of competition: stress, inequality, cheating, etc. Margaret Heffernan demonstrates first the cost of competition in the workplace but she also praises the benefits of cooperation and teamwork. She presents several alternatives to competition, developed by organizations and individuals throughout the world, in order to win the bigger prize.
"Economists have taught us that competitive self-interest ultimately benefits everyone and makes society more productive, but Heffernan believes the opposite. [...]This is a brave exercise." The Guardian.
The one to raise your voice
Jamie Margoli, Youth to Power: Your Voice and How to Use It. Hachette. 2020.
Some of you may know Jamie Margolin as a young climate justice activist. In this manifesto, she enumerates several social justice movements led by young people, and draws lessons from them and their leaders on intersectional and healthy activism. Youth to Power is an inspirational and practical guide to activism and long-term action… and a proof that you are never too young to leave your mark.
"Youth To Power is an essential how-to for anyone of any age who feels called to act to protect our planet for future generations." Former Vice President Al Gore.
The one to be a change-maker
Julia Gillard and Ngozi Okonjo-Iweala, Women and Leadership: Real Lives, Real Lessons. The MIT Press. 2021.
Women and Leadership was written by two powerful women: Julian Gillard, former Australian Prime minister and Ngozi Okonjo-Iweala, former Nigerian Minister of Finance and current Director-General of WTO. But the book features many other women leaders and describes the gender biases in the high spheres of power. Far from being a pessimistic perspective on gender and leadership, this book calls for action and for female empowerment.
"Women and Leadership is a powerful reminder that there is no limit to what women can accomplish when we have the chance. [...] Every page of this book is brimming with candor, wisdom and humor—leaving the reader rightfully convinced that while women still have to try a little harder and fight a little longer, sooner or later we will get the job done." Madeleine K. Albright,the first woman to serve as U.S. Secretary of State.
With these recommendations, Womenpreneur aims to arm yourself with helpful knowledge to understand the world around you, and to be part of change. The powerful examples and advice you will find in these books are precious tools to get inspired.
Keep in touch with the Womenpreneur Initiative!
If you like our article, don't forget to share it with your network!
Subscribe to our newsletter to make sure you don't miss our updates and visit our website and social media to discover more about our tips and programs to boost your skills and enter the job market!
Instagram - Facebook - Twitter - LinkedIn - Youtube
Join GenerationW2021!
Are you a young female student/job-seeker? Your perfect job-match is waiting for you!
The Womenpreneur Initiative has just launched the second edition of the GenerationW program: GenerationW2021. This time supported by the U.S. embassy in Belgium and equal.brussels. Watch this short video to find out about all the info!
Applications are now open! Fill out the form and start the adventure!