The Womenpreneur Initiative is proud to present you another inspiring woman as part of our series about inspiring women in Belgium. Its aim is to increase awareness about female role models.
Today we present to you Alba Pregja! Alba is the founder of WOMADE, a coworking space designed to inspire and support women entrepreneurs.
At one of our recent events in the GenerationW programme, Alba offered us a guided tour to her warm co-working space "WOMADE".
Alba Pregja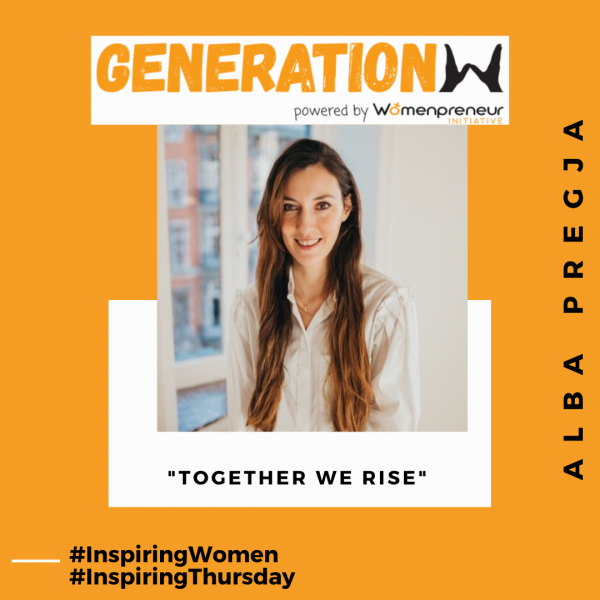 Originally from Albania, Alba arrived in Belgium with her parents at the age of eleven. She studied in Belgium, both in Leuven and Brussels, but also in Bologna in Italy. She first started working in Communication and Marketing and then became an Account Manager at Politico. She recently founded WOMADE.
A quest for meaningful connections
Nevertheless, her work left her unsatisfied as she realized that she did not want to work for anyone. So she decided to take entrepreneur classes with the Brussels Enterprises Commerce & Industry (BECI). There, she participated in many networking events. On one hand, she learned about practical tips such as how to gather funds. On the other hand, she met and formed strong connections with other women. She eventually decided to take the plunge, quitted her job and started working on her entrepreneurial project.
She initially wanted to create an artistic concept store. As she was developing this idea, she was used to working in cafes. However, cafes felt lonely and ended up being quite expensive and loud. Then, she had the idea to look at coworking spaces but was disappointed by the lack of meaningful connections she was hoping to create with people. So the idea popped up : why not create a space like the one she was missing and looking for? A space where women could feel comfortable, work and connect.
A feminist journey
The value of sisterhood is at the core of Womade. Growing up, Alba questioned the lack of solidarity among women. But soon she started meeting like-minded women. These encounters made her aware of the common desires and needs women are sharing. Then, she gave birth to a daughter who became her first source of motivation. Alba wants her daughter to be able to follow her dreams and fulfill them. For her daughter to do so, Alba knows she has to lead by example.
In the WOMADE's project lie these desires : to inspire and get inspired by other women and their entrepreneurial journey, to meet the needs of women by designing a safe space where women and their projects can thrive, and create a synergy between supportive women.
WOMADE : Beyond a coworking space
This hard work and these values, peppered with a bit of courage, resulted in WOMADE that Alba describes as "a coworking space dedicated to women's needs, thought and designed by women". However Alba's project went beyond that. Alba also organizes numerous events at WOMADE such as masterclasses and networking events and workshops to network and acquire useful skills and knowledge for your business. There are also yoga sessions and book lectures to encourage self-care and self-development. Finally, WOMADE is trying hard to be as sustainable as possible, whether in terms of energy saving, recycling or waste-free environment. Overall, Alba managed to create a community of ambitious, rocking and united entrepreneurial womxn!
Meet other inspiring women!
Do you want to meet other inspiring women? Subscribe to our newsletter to be sure you will not miss our next blogs about them! Follow us on our social media to follow the stories of inspiring women:
Instagram - Facebook - Twitter - LinkedIn - Youtube
Join GenerationW2021!
Are you a young female student/job-seeker? Your perfect job-match is waiting for you!
The Womenpreneur Initiative has launched the second edition of the GenerationW program: GenerationW2021. This time supported by the U.S. embassy in Belgium and equal.brussels. Watch this short video to find out about all the info!
Applications now open! Fill out the form and start the adventure!