The Womenpreneur Initiative is proud to present you another inspiring woman as part of our series about inspiring women in Belgium. Its aim is to increase awareness about female role models.
Today we present to you Margaux De Ré! Margaux is a Deputy at the Brussels Parliament and of the Wallonia-Brussels Federation. She is also the Chair of the Equality Committee.
At one of our recent events in the GenerationW programme, Margaux told us about her experiences throughout her career and the importance of supporting each other as women.
Margaux De Ré
A multifaceted woman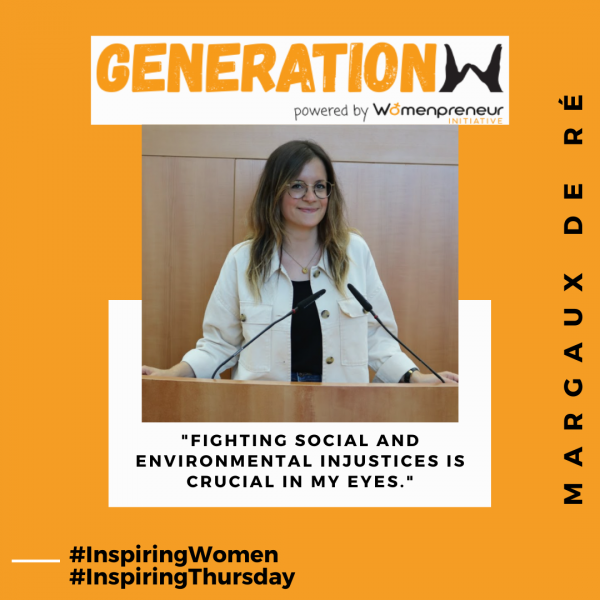 "I am a Brussels Deputy. I am an entrepreneur. I am a digital expert. I am feminist." These are the first words you can read on Margaux's website. They perfectly reflect her multifaceted and dynamic personality. Margaux first studied communications, with a focus on journalism before pursuing a master of performing arts, specialising in documentary.
After graduating, she launched an app on public transport, Nextride, to help Belgian citizens in their daily life. She was also made aware of social injustice and inequalities at an early age and consequently, she has been committed to a social and democratic project for years. She professionally entered the political field as a digital communication manager. Since 2019, Margaux has been a Deputy at the Brussels Parliament.
A committed woman
Margaux has centred her work on social issues, particularly regarding women's rights. Sexual and sexist violences, fat-shaming, harassment in the street, menstrual protections, and much more: her fights cover a broad range of topics to build a better and more inclusive society. At the core of her values stands the conviction that supporting women and furthering women's solidarity are essential. Moreover, Margaux is determined to promote and respect social, economic and environmental high standards such as slow fashion - the opposite of fast fashion -, inclusivity and diversity in media, equality on the job market, etc.
Margaux has also been one of the faces against cyberbullying in Belgium. As people specifically targeted her in a malevolent and sexist online campaign, she knows what cyberbullying is and how it feels. She has not been scared of sharing her experience to raise awareness on this burning topic.
A young Deputy woman
At only 22 years old, Margaux co-founded her Nextride app. At 30, she became a Brussels Deputy. She inspires us to dare, to act, to fulfill our dreams and, above all, to do it now without waiting. As a young woman, she faced doubts and individuals trying to undermine her legitimacy, but her journey proved her skills and professionalism. Because she is a young woman, she is also in a good position to defend the interests of the youth and answer their concerns, especially on ecology and digital challenges.
Meet other inspiring women!
Do you want to meet other inspiring women? Subscribe to our newsletter to be sure you will not miss our next blogs about them! Follow us on our social media to follow the stories of inspiring women:
Instagram - Facebook - Twitter - LinkedIn - Youtube
Join GenerationW2021!
Are you a young female student/job-seeker? Your perfect job-match is waiting for you!
The Womenpreneur Initiative has launched the second edition of the GenerationW program: GenerationW2021. This time supported by the U.S. embassy in Belgium and equal.brussels. Watch this short video to find out about all the info!
Applications now open! Fill out the form and start the adventure!