The Womenpreneur-Initiative is proud to present another inspiring woman as part of our series about inspiring women in Belgium. Its aim is to increase awareness about female role models.
Today we present to you Sophie Barrière! Sophie is a young and dynamic woman. She founded and runs the Green Lab, a popular gin and cocktail bar in Brussels. Besides, Sophie also developed many projects that reflect her passion, strength and solidarity. 
Meet Sophie Barrière!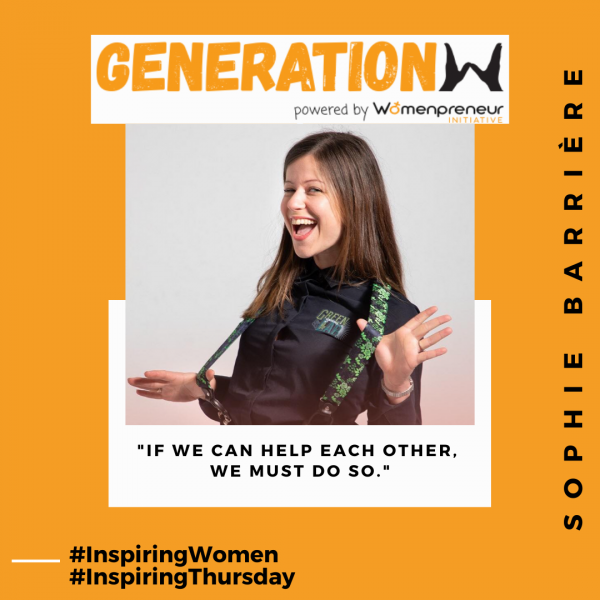 Sophie started working in the bar industry first as a barmaid and then a communication manager. After pursuing studies in Cinematography, Arts and Media management in Lyon but also in Seoul for a year, she started working at Delirium Village. The Delirium Village is a very popular bar in Brussels, famous for its 2004 types of beers, that made it enter the Guinness World Record. She was in charge of communication-related activities: community management, video, editing, web content. In 2014, Sophie embarked on a courageous new venture together with Leslie Moreau by founding the Green Lab.
A dynamic entrepreneur, with a tons of brilliant projects
Sophie did not stop at founding and running a very popular bar. She developed many projects which were all met with success. The Green Lab has become a very appreciated bar in the neighbourhood, welcoming many customers and events. With its 246 different gins, it currently holds the largest collection of gin in Belgium. Besides, the team managed to overcome the health crisis and its economic damages and recently reopened the Green Lab, with even more energy and smiles than before. Sophie is also the co-founder of the Brussels Cocktail Week, a project developed with Leslie Moreau. During an entire week, each year, Brussels becomes the European capital of cocktails. The Brussels Cocktail Week reunites bars and restaurants from all over Belgium and Europe so that people can discover more about mixology, gastronomy, their history and of course can have a taste of their creations. 40 bars and restaurants participated in the last edition in 2019 which welcomed more than 8000 participants. 
Sophie's moto: inclusivity and solidarity
At the heart of Sophie's projects is inclusivity. The Green Lab and the Brussels Cocktail Week are both initiatives that are democratizing the world of mixology. For instance, during the Brussels Cocktail Week, Sophie invited gourmet restaurants who were associated with mixologists in order to offer food pairings. The festival was an opportunity for the general public to discover more about cocktails and gastronomic culture. 
Sophie's projects also reflect solidarity. She organized Les Amazones in the context of the Brussels Cocktail Week: a day to celebrate and highlight the independent and passionate women in the Belgian bar industry. Recently, she imagined the Casse Dalle Festival, an  exciting food and drinks event with great music! This event aims also to support local businesses, especially those who suffered from the Covid-19 pandemic. 
In Sophie's words, solidarity is the key to overcoming the Covid crisis: "If we can help each other, we must do so". ("Quand on peut s'aider, on le fait.")
Meet other inspiring women!
Do you want to meet other inspiring women? Subscribe to our newsletter to be sure you will not miss our next blogs about them! Follow us on our social media to follow the stories of inspiring women:
Instagram - Facebook - Twitter - LinkedIn - Youtube
Join GenerationW2021!
Are you a young female student/job-seeker? Your perfect job-match is waiting for you!
The Womenpreneur Initiative has launched the second edition of the GenerationW program: GenerationW2021. This time supported by the U.S. embassy in Belgium and equal.brussels. Watch this short video to find out about all the info!
Applications now open! Fill out the form and start the adventure!