The Womenpreneur-Initiative is proud to present another inspiring woman as part of our series about inspiring women in Belgium. Its aim is to increase awareness about female role models.
Today we present to you Karema Menassar! Karema is a Belgian professional photographer. She has her own website, as well as a youtube channel called "Stay at home with Karema". This last project enables her to share her skills and passion. 
Meet Karema Menassar!
From chemistry to photography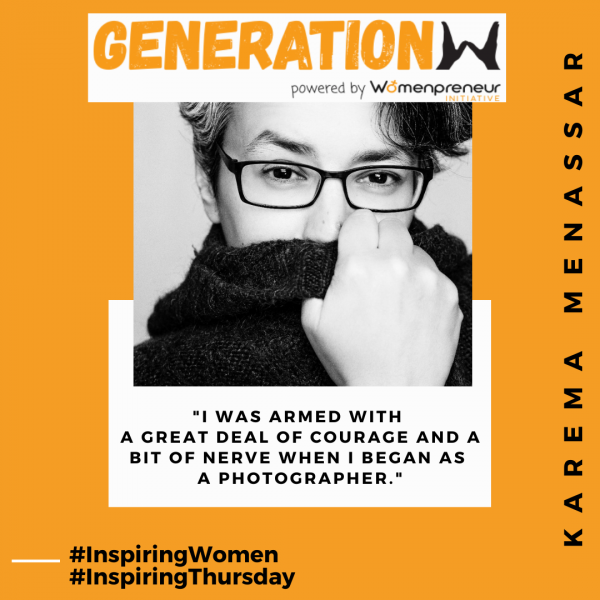 After obtaining a chemistry degree, Karema first started working in the social sector. She was in charge of coordinating projects focused on solidarity and sustainability. In 2013, Karema was offered a camera. This proved to be a revelation. Since then, Karema has dedicated more and more time to photography, thereby acquiring new skills. She did her very first shooting in December 2017 and a few months after, she decided to make a career of it. Her work is versatile and covers a vast array of themes: travel, portrait, event, cooking and animals, to name a few. She also developed several projects, one of which even led to her participation in the photography contest Les nuits photographiques d'Essaouira in 2019. 
The importance of encounters
Karema's professional career has been punctuated by encounters of all kinds and the importance of these meetings resonates in her work. She first met with a passion, photography, which she then chose to follow. Her work has been marked by her travels, especially since her 2019 getaway in Asia, during which she had the opportunity to meet countless people. Each of her exchanges is characterized by respect and an ability to listen and observe. Finally, her work has also been shaped by encounters with various landscapes: Kuala Lumpur at night, a street in Essaouira or the sea from the Sicilian coast. 
In the context of the pandemic, she started to expand her work by creating a YouTube channel where she takes on the role of photography teacher. Recently, she was the photographer of the Women100 project which celebrates 100 inspiring and diverse women in Brussels who have been active during the Covid-pandemic.
Karema's lessons
Karema's work teaches us to be passionate and to embrace our passions. Her career also demonstrates that it takes courage and hard work to follow and develop them. And to always do so with incredible energy and a smile on your face!
Meet other inspiring women!
Do you want to meet other inspiring women? Subscribe to our newsletter to be sure you will not miss our next blogs about them! Follow us on our social media to follow the stories of inspiring women:
Instagram - Facebook - Twitter - LinkedIn - Youtube
Join GenerationW2021!
Are you a young female student/job-seeker? Your perfect job-match is waiting for you!
The Womenpreneur Initiative has launched the second edition of the GenerationW program: GenerationW2021. This time supported by the U.S. embassy in Belgium and equal.brussels. Watch this short video to find out about all the info!
Applications now open! Fill out the form and start the adventure!