The Womenpreneur-Initiative is proud to present another inspiring woman as part of our series about inspiring women in Belgium. Its aim is to increase awareness about female role models.
Today we present to you Katarzyna Morton! Katarzyna is the founder and CEO of Partyrobics Fitness, an international dance-clubbing-fitness brand. She also owns the dance fitness studio Body Expressive Leuven. Kate teaches both virtually and in-person dance and fitness classes in Belgium, Canada and Romania. 
At GenerationW's recent joint event with the Womenpreneur Digital Hub, Kate gave us a fitness and dance class. Far from the constraints and the anxiety of perfection in dance, she suggested to all participants to understand dancing as an experience and enjoyment of the body and the mind. With her inspirational vision of dance, the ultimate objective is to have fun !
Meet Katarzyna Morton !
A rich and diversified career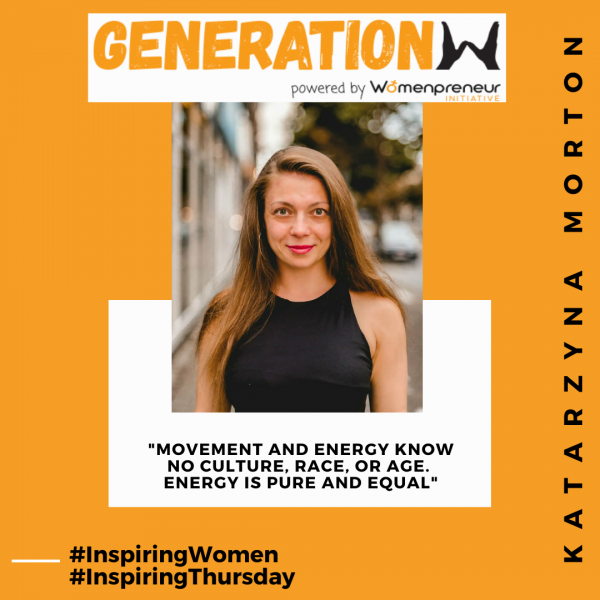 Kate holds a Master in Political Science. She has been in the leadership of a journalistic organization of 60.000 young media makers from almost all European countries. The mission of this organization was to train and create projects on accurate and balanced media reporting for young professionals from all around the world. Later she founded and led for a few years the Middle East and North Africa Committee that launched journalistic training for MENA and European journalists. The aim of this project was to learn about each other's regions, share skills and deconstruct stereotypes through common work. Finally, she has been involved in politics with a Polish pro-democratic movement and ran election campaigns of a prominent politician. 
With this profile, Kate's dance projects may seem atypical and far from her past commitments, when in fact they are connected. She perceives media and dance as a way to communicate, to express true facts, and authentic states of play. She also describes dance as the most common language of all, and a path to connecting and understanding people, an objective she also pursued while working in the world of media. Besides, she has always enjoyed crossing fields, mixing skills and knowledge, which has enriched her as a professional and as a person. For the past two years, she has been fully dedicated to dance. 
Inclusivity and freedom at the heart of her projects
Kate created several projects revolving around dance-fitness and partyrobics. Partyrobics innovative concept is to workout in a clubbing ambiance, that is to say, in the dark, with party lights and dynamic remixes of recent music hits. The choreographies and the teaching methods allow people to liberate themselves, to forget they are even in a class and to go a little wild and crazy.  Each of her projects, though being diverse, has one common aim: to create a safe, nonjudgmental, pressure-free atmosphere for people. In her own words "Movement and energy knows no culture, race, or age. Energy is pure and equal.".
Kate's philosophy
Dance is a very intimate thing, especially with Kate's approach. She has invented the energy flows concept, which uses various energies so that everyone can connect to their different emotions, show vulnerability and expose their joy, pleasure, sadness or anger. Of course, this requires stepping back from a performative dance, and dancing in a way that feels true to yourself. With this philosophy, people should be able to recognize, embrace and change the energy and emotions within them. She aspires to move from "looking good" to "feeling alive". 
Some last words
"So I dance my soul out. And share this. So, dance with me."
Meet other inspiring women!
Do you want to meet other inspiring women? Subscribe to our newsletter to be sure you will not miss our next blogs about them! Follow us on our social media to follow the stories of inspiring women:
Instagram - Facebook - Twitter - LinkedIn - Youtube
Join GenerationW2021!
Are you a young female student/job-seeker? Your perfect job-match is waiting for you!
The Womenpreneur Initiative has launched the second edition of the GenerationW program: GenerationW2021. This time supported by the U.S. embassy in Belgium and equal.brussels. Watch this short video to find out about all the info!
Applications now open! Fill out the form and start the adventure!