The Womenpreneur Initiative is proud to present you another inspiring woman as part of our series about inspiring women in Belgium. Its aim is to increase awareness about female role models.
Today we present to you Roxane Pique! Roxane is the founder of Blapp.be, a company that helps startups and entrepreneurs to create their app using UX UI design tools with a no-code approach.
At one of our recent events in the GenerationW programme, Roxane gave some recommendations about managing a new app or website. This workshop on digital literacy was fascinating: in addition to sharing helpful advice, Roxane really conveyed her energy and enthusiasm to the candidates.
Roxane Pique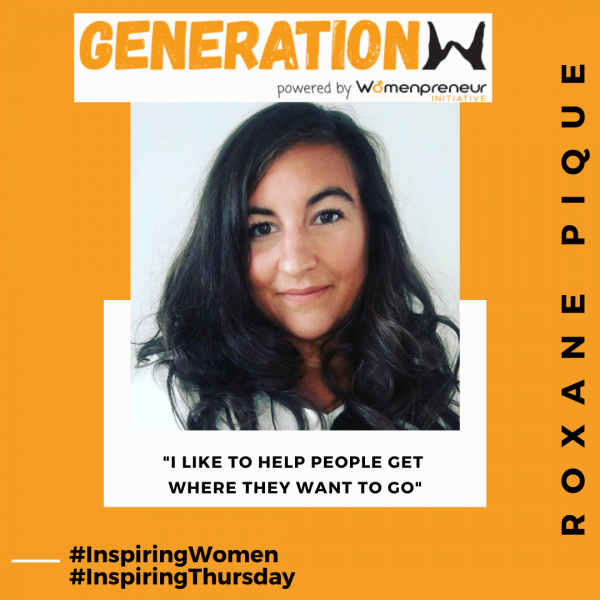 Finding one's way professionally is not always straightforward and, before launching Blapp.be in November 2020, Roxane held several jobs in different sectors. Among these, she worked as a property manager and as an executive assistant to the creative director in different companies. However, Roxane then decided to set up her own business and she found her way by working as a freelancer. 
Today, Blapp.be offers support for professionals for them to become autonomous in the creation and evolution of their app through evaluating the market, discovering new methods and tools, and testing and improving the app. Since the creation of Blapp.be, Roxane has worked with several enterprises and startups who have trusted her. In everything she does, Roxane is 100% invested, coming up with new ideas all the time, and using her creativit
y to always improve herself and the services she offers to clients. Roxane's motto is:  "I like helping people get to where they want to go". 
Easy App, Easy Life
Roxane thus aims to ensure that apps are easy to create and use, even for those who are not developers since her solutions do not include any line of code. At our workshop, she gave some very interesting practical tips and emphasised the importance of creating an app in any project making. Indeed, an app helps to reach your target group and realise your goals. Among the tips she gave were: defining your idea, making research to test the viability of this idea, creating wireframes, imagining and designing the visual and prototyping the app. Once your app is launched, the project is not over since it is a never-ending process in which you should keep communicating, asking for feedback and improving it. Overall, Roxane advises us all to never give up and to trust ourselves. Sometimes, you have to try different strategies, jobs and ideas before finding the way that is right for you!
For more explanations on how to use professional tools to create your app, you can receive a free e-book via Blapp.be.
Meet other inspiring women!
Do you want to meet other inspiring women? Subscribe to our newsletter to be sure you will not miss our next blogs about them! Follow us on our social media to follow the stories of inspiring women:
Instagram - Facebook - Twitter - LinkedIn - Youtube
Join GenerationW2021!
Are you a young female student/job-seeker? Your perfect job-match is waiting for you!
The Womenpreneur Initiative has launched the second edition of the GenerationW program: GenerationW2021. This time supported by the U.S. embassy in Belgium and equal.brussels. Watch this short video to find out about all the info!
Applications now open! Fill out the form and start the adventure!